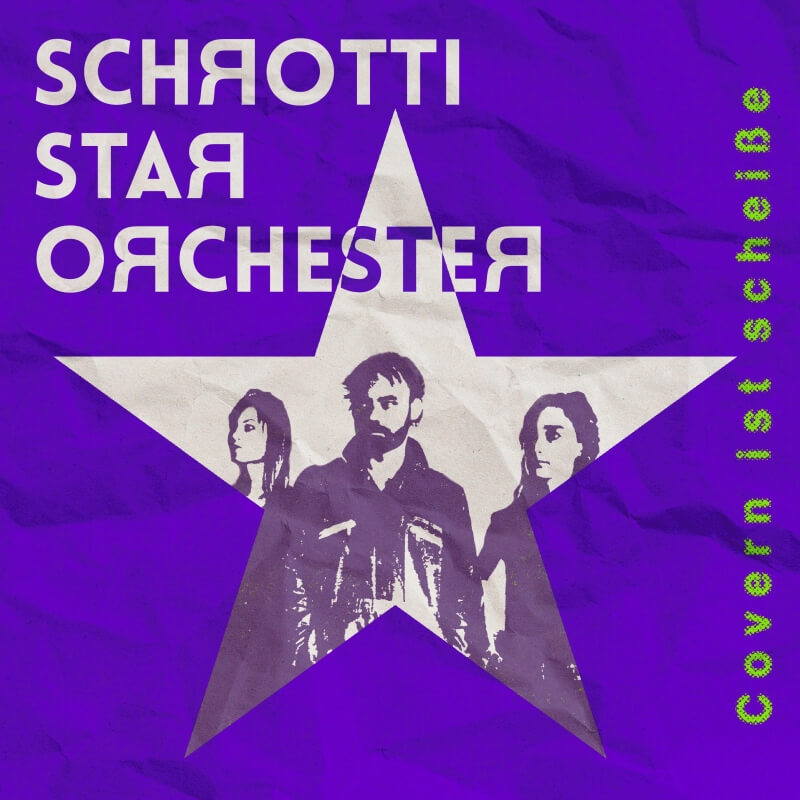 Hits, hits, hits – everyone's chasing them, but where are they? Of course on the debut album "Covern ist scheiße" ("Covering is shit") by the Berlin cover band SCHЯOTTI STAЯ OЯCHESTEЯ, who play glamorous Indie Rock'n'Roll in a junkyard style. With the title of the disc, they anticipate the widespread misjudgement and lack of appreciation for the work of musical interpretation. And demand: Radical image upgrading of cover bands along with higher recognition of their tremendous creativity in recycling art!
For years, the clapper band scavenged their instruments and songs from the rubbish of German consumer society in order to distill the ultimate STAЯ OЯCHESTEЯ sound from ordinary artefacts. Home organ, children's piano, glockenspiel and a tom left in the lurch let the eleven songs on the record appear in the worn-out glam of bygone times – as a reminiscence of an age when keyboard instruments were analog, indie rock was part of youth culture and festival tickets weren't just for the rich kids.
However, if you think of retro style now, you are on the wrong steamer: Dominika Kocis, Marielle Sterra and Dennis Depta merge elements of pop, indie and children's room tinkling in their arrangements to create a very unique sound. Songs of Muse, Bloc Party, Wir waren Helden ("We were heroes") and Radiohead are transferred into the STAЯ OЯCHESTEЯ universe. Within the trio moves effortlessly between genres and gives the tracks their very unique SCHЯOTTI drive with lots of rock'n'roll energy. More information can be found here.